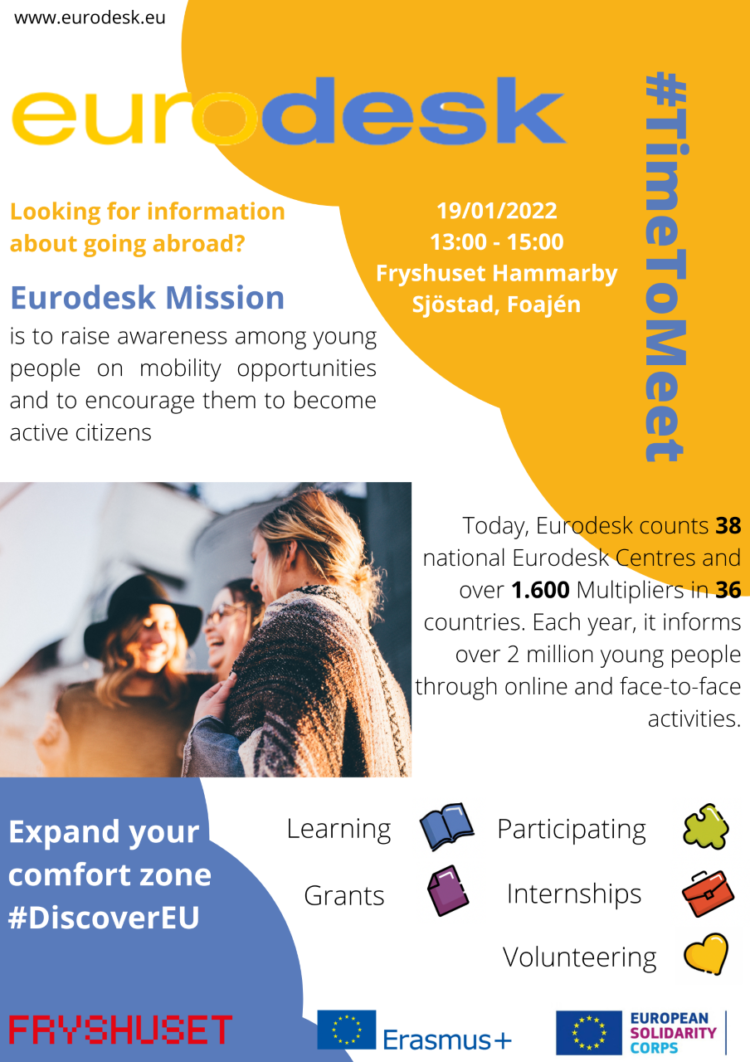 Time to meet 2022: find your opportunity to explore Europe!
Eurodesk is a European youth information network created as a support organisation to Erasmus+. Eurodesk provides information on learning mobility comprehensive and accessible to young people and those who work with them.
Fryshuset, being a non-profit organization is a Eurodesk contact center (Eurodesk multiplier) that spreads information about the possibilities for young adults to contribute to society and at the same time emerge into a new culture and lifestyle. The priority of Fryshuset is to make sure that young people have a safe space to express themselves and develop through their passion and desires. Anyone between the ages of 18-30 who resides in the program and partner countries can sign up for volunteering in the European Solidarity Corps (ESC).
The mission of Eurodesk is to raise awareness among young people on mobility opportunities and to encourage them to become active citizens. It works alongside the European Commission on various initiatives targeting young people, including the European Youth Portal.
The European Youth Portal offers information about opportunities and initiatives that are of interest to young people who are interested in living, learning and working in Europe.
There are various categories to pick from so you can custom your desire for volunteering based on your interests.
To find out more about opportunities abroad check out www.eurodesk.eu or come visit us on our #TimeToMeet. Time to meet is an event organized every month (starting 19/01/2022) at the Foajén of Fryshuset Hammarby Sjöstad, Mårtensdalsgatan 2-8 where you can get all the information you need. For further information email eurodesk@fryshuset.se